Dreadlocks hairstyles have become very popular among women these days. Dreadlocks are also known as dreads or locks. In Sanskrit, it is also known as Jata. The dreadlocks hairstyle is originated from Jamaica. Surprisingly, sporting a dreadlocks was a method of endurance,  survival, and resistance to prevailing civilization. The donning of dreads is connected to the Rastafarian culture and has currently evolved into the most important and powerful emblem and motif of their culture. The action spoke about the Black Pride and their upliftment. Dreads are roughly identical to the two string weave braids but with normal, natural and everyday hair.
Dreadlocks illustrate an unrestrained personality, liberated, free spirit and a hippie way of life, even though women should not allow people's opinion to keep them from donning this hair look. Although this locks hair look is generally seen on black's, people of all races have adopted this hair look. You can insolently don your natural headdress and do not have to be concerned about hair damages and fragile hair tips. From dark to light hair color, short to long, straight to curly, dreadlocks hairstyles can be developed in various shapes sizes and color. Over the time, the plain and uncomplicated dreadlocks have developed and progressed and a bunch of new styling methods has been originated. The dreadlocks can be created by "the neglect method" or can also be created in parlor applying methods such as dread perming or applying devices such as a crochet hook.
The most favored hair type for dreads is Afro-textured hair. However, more and more people have accepted and adopted this hair look. Even Caucasians who have silky and straight hair desire for this hairstyle. Dreadlocks hair look is amidst the most flexible, all-rounder and adaptable hairstyles for women. Women can paint their hair any shade they want, leave it short or lengthy, keep it straight, braided or curly. The most excellent part is that the dreadlocks are very simple and painless to manage and keep up. Actually, you do not even have to comb or frequently groom like natural hair. But, you should keep in mind to maintain your locks clean constantly. As the locks become longer, they appear better, sleeker and demand less maintenance.
The dreadlocks hairstyles for women alter relying upon the type of hair and the shade you desire. Their trait is straightly associated with the ability and talent of your hair stylists. If you desire for long-standing dreads which will stick around for a long time then you should seek for a skilled and experienced hairdresser. Dreads are created by twirling and coiling or backcombing the hair. In other particular situation, when the hair is forsaken to grow on its own without daily combing and washing, it coils collectively to compose free-form dreads. This hair look can be seen not only in African tribes but also in Ancient Egyptian and Hindu cultures. The recognition and acceptance of this locks hairstyle increased with the uprising of Reggae music in the 70's. In the 90's era, the dreads hairstyle was connected with bohemian, free-spirit and goth.
. Irregular red highlights
This method to a dreads hair look is ideal for ladies who enjoy switching their hair color. Adding red hue to the brunette irregular style is precisely what you require when you crave changes. This length is very easy to maintain and is a perfect look for summer. You can add some long hair extensions at the back and decorate it with beads and colorful rubber bands to make it look funky. The hair at the front is longer at one side and shorter at the back.
If you already have dreads, it doesn't have to mean that you don't remember about dreadlocks styling. You can just utilize your hair to develop a goofy and crazy style just as the picture. Simply pull them up and cautiously fix and hold them up to create any shape you desire. This style does not require much effort and could be created in 20 seconds.
Provided that you have lengthy and stunning locks, you cannot forget to attempt to color your locks using the beautiful coloring techniques. Adding beautiful color to the dreads makes you look more stylish and absolutely wonderful.
Cornrow dreadlocks combination
This hair look is one of the most favored and approved dreadlocks looks by women.  It is a combination of dreadlocks and cornrows. At the back, there are dreads and in the front, cornrows. It is a very versatile hairstyle. This is an incredible, girlish and fresh hair look that you forever desired for.
This color dreads will suit perfectly on ladies who have dark or tanned skin color. However, despite having a light skin color you can nevertheless enjoy this beautiful blonde dreadlocks. Do not forget that, if you have a thin hair then your dreads will also be thin. The blonde locks will look excellent on a night out and party events. It is an ideal lengthy blonde locks for everyone.
While leaving your dreads down is pleasant and hassle-free, you should not neglect the fact that styling techniques can make your dreads looks absolutely splendid. You should try to style your dreads with laces and colorful threads to give it a fun look. You can also add colorful beads and put your half hair up with flower designs. Though this hair look could be difficult for the beginners but practice makes perfect right?!
Cornrows with dreads ends
This hair look is another combination of cornrows and dreadlocks. First, you need to construct cornrows and finish off the ends with dreadlocks. Your hair will look more remarkable if more hair is used to create locks. This hairstyle looks good both on long and short hair. Although this is a time-consuming hairstyle, it will look great once it is finished.
Ladies who do not have thick hair do not have to worry anymore. If you want to create a bulky dreadlocks hairstyle, just add some fake dread. And you can ask for a colorful fake dreads to create a fun and playful look. If you have short hair but want long locks, then the fake locks are the perfect answer for you.
If you think your hair is not ideal for dreads hair look, then this is the perfect choice for you. You can work with hair extensions and develop a pony or a bun as you wish. Dreadlocks extensions will look glorious and give stylish vibes. Make sure to match the color of extension with your hair.
Dreadlocks hair looks for ladies can be very appealing and attractive when you apply for the dreads hair extensions. In order to achieve this hair look, you just have to add the stitch up extensions at the back and just leave your natural hair at the back. It is a very easy hair tutorial. This combination of natural hair and stitch-ups dreads extensions will look impeccable.
Sectional dreadlocks are absolutely an effort of creativity. You can develop dreadlocks on the front section of the hair and leave your natural hair at the back or you can develop dreadlocks at the back as well. Anybody can style the dreadlocks however you wish. We can add fake feathers to make your hair look elegant and braid the little section of the dreadlocks. If the whole dreadlocks hair look is overwhelming to you, you could tie the back section of the dreadlocks in a half bun and just leave the front section of your dreadlocks.
Combining every little thing you are familiar with the dreadlocks hair look can support and guide you to create hairstyle which is surely topnotch and outstanding. Twirled cornrows on the roots and dreadlocks at middle and the end section of your hair will absolutely attract attention. Dyed dreadlocks at the tips of the hair look better and unique as well. This dreadlocks hair look is perfect for short and long hair. If you have short hair and don't know how to style your dreadlocks then this is the perfect choice of hairstyle for you.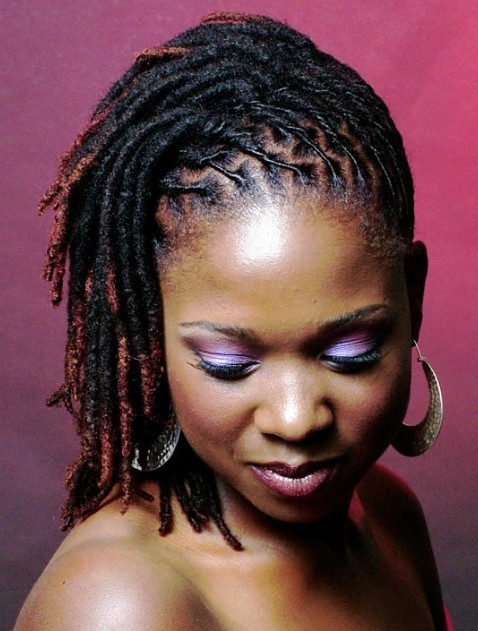 Do not be surprised when you discover out that usual hair coloring techniques can be used to dreadlocks hair as well. You can leave your natural hair color on the roots section of the hair and dye whatever color you desire at the ends of your hair. If you want you can even dye two shades of color such as light brown and dark brown at the tips of your dreadlocks. Actually, the ombre hair color will look even more splendid and extraordinary on the dreadlocks than on natural hair. If you don't believe me, you can take a look at the picture below.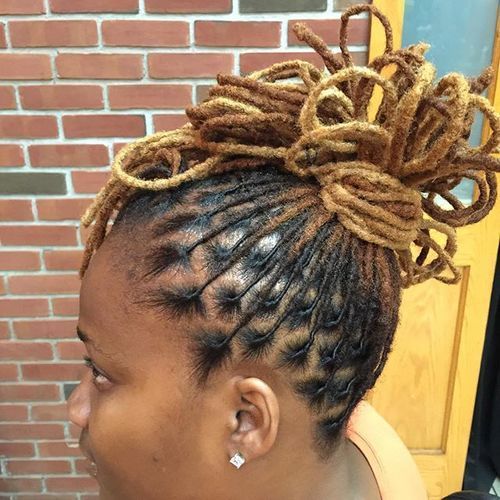 Slender, light, well-kept and uncluttered dreadlocks are painless and uncomplicated to form  modest and easy hairstyles. Simple dreadlocks bun will look classy and elegant. It is very easy to create this hair look as well. The dreadlocks hairstyle is usually bulky and massive. So, you can create a big, high bun. This hairstyle will make you look very smart and tidy. It can also be carried out as office look and. If the volume of dreadlocks is overwhelming to you then, this bun dreadlocks is a perfect choice for you.
You can invent some unique, special and exceptional dreadlocks hair looks for some special events even if you do not carry out dreadlocks look every other day. You can make your hair look special by adding beautiful and vintage accessories to your hair. Adjoining some dreadlocks extensions to your natural hair can make your hair stand out and extraordinary. It is an ideal option for you if you want to look different and feel special from the normal day.
Typical straight dreadlocks might give you the impression of common, average, dull and boring. You can spice up your dreads hair game by requesting for coiled and curly locks to your hairstylists. It includes compressing, stiffening and clenching your normal dreadlocks more than usual. The outcome of this is excellent and special.
As the dreads hairstyle is very voluminous, you need to have accessories in big size to be able to hold the hair. Perfect choices for accessories are scarves, huge flowers, hair bands and ornamental clips. You can use whichever accessories depending upon your mood. Scarves attached with flowers will look beautiful on your hair.  Bigger the size of the hair accessories, the better it is!
This bright, vibrant and multicolored dreads will make any women open-mouthed and excited. You can color each locks hair strands separate and create a very fun look. These dreads look is not a hair look that you see every day. It takes a lot of guts and courage to create this look. But once you get this look, you will definitely not regret it.
Zebra, cornrows and dreadlocks combination
The combination of zebra, cornrows, and dreads look cannot be created by amateurs. It definitely requires a professional. You should begin by highlighting the cornrows and finish it off by locks at the tips. It is a beautiful and unique combination of hairstyle.
Hats are great accessories, especially during summer. If you have common, ordinary dreads and want to accessorize your hair then the hat is the perfect option for you. The hat will amp up your normal, everyday hair look. If you are having a bad day hair, then you can just wear a hat and cover it up. Hats are very versatile and you can choose the size and shapes of the hat you desire for.
Dreadlocks hairstyle can evolve into very intriguing and fascinating one if you apply your insight and vision. Green add-ons are an excellent action if you want to stand out from others. If you have thin locks but the desire for a full, voluminous look then you can add green dreads extension.
If you are considering a technique to adjoin a bit of spunky and vibrant dreadlocks look to your appearance but your hair is too short and thin for it then this is the perfect choice for you. Just add some dreadlocks pony and voila you are ready for any special events! It is one of the easiest and uncomplicated methods to get the locks look. Try to get the same color of dreads as your natural hair color. You do not have to spend hours on your hair to make it look special if you have the dreads ponytail.
If you prefer dreads as a hair look, you can upgrade and make it look better by coloring the dreadlocks of your choice. You can choose crazy and scandalous colors like red, green, pink, blue for great effect.
Dreadlocks hairstyles have developed and progressed a lot over the years. This mesh crown hairstyle is a complicated and sophisticated method to restrain and control the mane at the nape of your neck. Making the mesh crown of long dreads will give an outcome of high, messy bun. You can wear this hairstyle anywhere from special events to casual hangout. This could be a difficult hairstyle for amateurs but after giving it few tries you are good to go.
Red colored dreadlocks are flattened and wrapped up forming a room to feature those beautiful and vibrant flowers. Just because you have locks doesn't mean that you have to look shabby and messy. As a matter of fact, you can look very chic, polished and beautiful. This fancy flower tuck is just created like a Gibson tuck but in dreads. It is a very fancy dreadlocks hair looks. This hairstyle can also be related to Japanese Geishas who also tuck their hair in a bun in the same exact way.
This marvelous unimaginable rare Mohawk hair look is truly a work of art. Customarily, black women's hairstyles of dreads are quite audacious and risk-taking but this hair look takes the crown. An array of coiled dreads are intertwined and spun jointly, developing a hair look you cannot forget.
The thin dreads have been left free and undone at the tips. It's a perfect way to accentuate and highlight to various color in your hair. Don your stunning and gorgeous dreads in half up do and beautify it with feathers, vibrant rubber bands, and colorful beads. This is a very beautiful locks hair look.
Accept and receive gladly an adorable interwoven hairstyle which appears no less intricate and complicated than a maze but you can envelop it around your head. This hairstyle is not an easy one but with lots of practice you can do it.
Blue to purple bleached dreads
This vibrant hair look shows exciting blue roots faded to reddish pink on the middle section to almost colorless hair ends. Multicolored dreads are usually artificial and fabricated so, it is perfect if you want to experiment with some crazy colors.
If you think that dreadlocks hair look is tedious and repetitive accompanied by no more then few procedures of styling then you are thinking wrong. The extravagant and splendid irregular hair look like in the above picture will certainly brighten and sparkle your life. This hair look will make you look very unique and take your hairstyle to the next level. The beautiful coral color will suit any skin shade.
These matte black dreadlocks are not the dreads that you commonly see on the people. It looks beautiful on Asian features and people who have light skin shade. The black locks are matched with the matte black hair. The dreads are attached at the back side of the hair.
Dreads hairstyle are generally appealing and fascinating if you are able to do it. This hairstyle is not for everyone.  Not everyone is willing to drastically transform their hair look. This look is a way to make a bold statement while permitting you to look extraordinary and influential. The major benefit of this hairstyle is the durability and endurance. You can relish it for a long time and you don't even have to do the touch-ups.